Dear Readers,
1)The past month has been SUPER busy! We LOVED the different ways we were able to spread Christmas cheer through Christmas parties, caroling in the neighborhood and caroling to the children and folks in the hospital along with giving them all Gospel Tracts and little gifts in the process.  Our prayer is that during that MOST wonderful time of the year, we were able to TRULY spread HOPE – through the glorious message of the Gospel!!  We hope you all had a GREAT Christmas and are looking forward to this NEW YEAR with great anticipation!  We know that the time is SHORT before the trump will sound and our Lord will catch his bride away to Heaven!  So, our prayer is that we will continue to spread the glorious Gospel, contend for our faith, stand firm on our Biblical convictions, and cling to the OLD PATHS – Jeremiah 6:16  "Thus saith the LORD, Stand ye in the ways, and see, and ask for the old paths, where is the good way, and walk therein, and ye shall find rest for your souls. But they said, We will not walk therein."

2) We love you all and pray for you.  We thank you for your support and below you will find our latest Prayer Letter and Precious Moments.  Hope it is a blessing to you. (Click on the link directly below to read the prayer letter and precious moments.)
December 2017, January and February 2018 Prayer Letter – Precious moments
3) Another baby on the way??  Yes, my precious sister Angie Hillegass is due for her 8th baby in August 2018!  We are THRILLED and that will soon (after she and I give birth to both of our babies) make a GRAND total of 32 GRANDBABIES for my wonderful parents!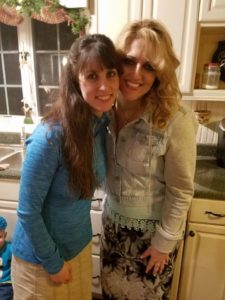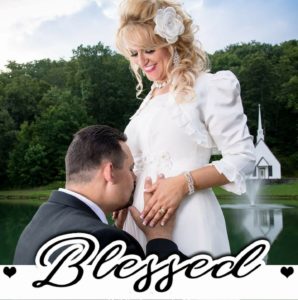 4) Our family has stayed VERY busy this month with normal duties such as the children's school, chores, cooking / meals, work in the print shop, Jill volunteering at the Pregnancy Center, etc.  We are HONORED that our printing ministry has continued to grow.  Below is a family project of us putting together "Yellow Smiley" Tracts.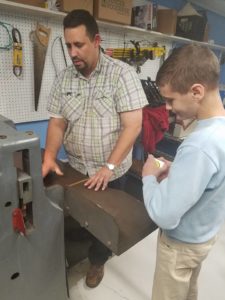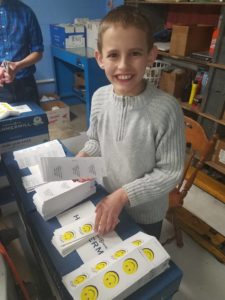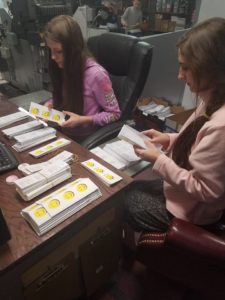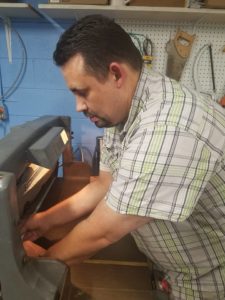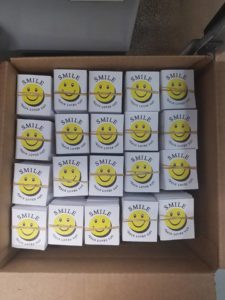 5) David and Nurie are on a Mission's Trip right now to AFRICA!  It was Nurie's hope and prayer to go on a Mission's Trip before she married someday.  She worked hard to raise her own money for the trip and God provided through various ways for David to raise his own money to go.  David met some GREAT missionaries (the Haleys) to Botswana, Africa and felt called to go there for the trip.  Nurie has looked forward to this for quite some time and is THRILLED to be serving in this capacity.  She strives to stay busy in the work of the Lord while she waits for God to bring His perfect mate to her someday.  While in Africa, they are planning to do a LOT of door knocking and soul winning while there.
We pray that you have a blessed new 2018!
With DEEP Care,   The Rodrigues Family  (Jan. 2018)
6)
Please follow and like us: