Dear Followers,
We wanted to let you know what we did on November 5, 2016.  We posted in our last itinerary post that we had a secret of where we would be in Arkansas on November 5, 2016.  Well, in case you have not already figured it out, we were at Jinger Duggar's wedding!  It was a BEAUTIFUL wedding and Jinger was radiant! Michelle was the most beautiful Mother of  Bride that I have ever seen!  Jim Bob and Michelle and their lovely children, are SO kind, humble and welcoming!  The Duggars are some of the nicest people you will ever meet!  Their fame has NOT gone to their heads!
We were SO blessed to be invited by the Duggar family to their lovely home and we hooked our RV up in their driveway and enjoyed the fellowship with them and some other friends after the ceremony and reception.  Then, the following morning, we enjoyed more time in their home singing, etc. and then went to their church and sang a few songs as a family.  The Duggar's Pastor and his wife have seven children and they are delightful also!  The Duggar's go to an amazing church!!
Out of DEEP respect to the Duggar's privacy, we are not going to post any pictures at this time.  The wedding invitation and wedding program (pictured below) are special to us and we look forward to adding those and our new photos from the day to our home photo album!
We are not going to give any details about the wedding at this time also, due to the paparazzi that is on a constant look out for info. about the Duggars.  BUT, if you want to see the wedding, make sure to tune in to TLC's special wedding edition of Jinger and Jeremy's wedding on NOVEMBER 15th!!!
We love you all and are thankful for you!!  God bless you!
In Christian Love,  The Rodrigues Family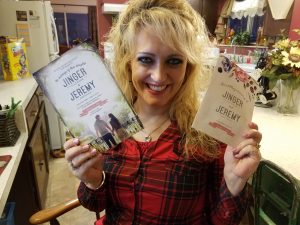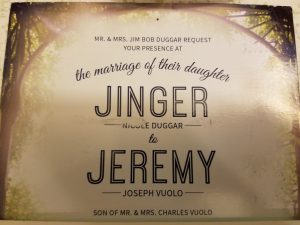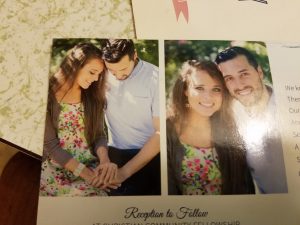 Please follow and like us: