Greetings to our followers!  We are SO happy and thankful that you pray for and follow our family and ministry.  We wanted to let you know that we have been VERY busy the last few months with traveling, being involved in ministries around home, printing jobs in our print shop, and……well, should we go on?  LOL.  The list could go on for some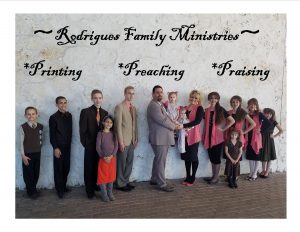 time!!
We are SO thankful to be busy in the service of the King!  Our calendar continues to be VERY full and hence the new system we mentioned above.  In the past we have posted our itinerary so that you could all see where we would be and come meet us at the church we would be at, if it was near you.  However, it takes so long to type all that out to post and we are trying to cut back on things that rob our time.
We plan to continue to post about our trips AFTER they are over, and keep you updated on how we are doing and what God is doing in our lives.  So, please stay tuned for those updates in the future.
This past winter was VERY busy with a LONG trip to Florida that was JAM- packed with meetings.  God was good and we met many new, lovely Christian people.  It is TRULY an honor to serve Jesus!
We have some VERY exciting news about KEVIN and AMY Foster!!  Well, IT IS OFFICIAL!!! Kevin and Amy and children are MOVING TO WEST VIRGINIA!!
We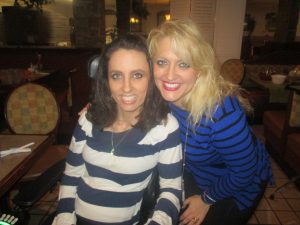 (the Rodrigues Family) and my parents are THRILLED!
It really wasn't on our radar that they would consider it here due to the bad memories with the accident, etc. However, my brother in law (Jordan Hillegass- Angie's husband) found the PERFECT property with a house and outbuildings on it that is absolutely IDEAL for the Foster's situation and desires. It is only about 45 minutes from where we live and the perfect location for Kevin to re-build his lawn care and snow plowing business. We are excited that we can see them more often now and help them when needed. Amy is SO glad to be nearer to her family and we are SO proud of Kevin. He is an AWESOME provider and still has ZERO debt – even with having purchased a beautiful home and property of over 200 acres!! PRAISE THE LORD that our family is all getting back together again! We SURE do love each other!
Thank you, Jesus, from Whom ALL blessings flow! They will probably move here sometime this summer. Can't WAIT!!
Below is the PDF of our Prayer Letter and Precious Moments from April / May / and June 2017.  Just click on this link please to read…………..   April, May, June 2017(1)
Below are some of the pictures of our Florida Trip.  We hope they are a blessing!!  God bless you all and if you ever want us to come to your church to sing and/or present our ministry, please contact us!
Thank you for reading and have a blessed spring – serving Jesus!
In Christian Love,  The Rodrigues Family  (Jill)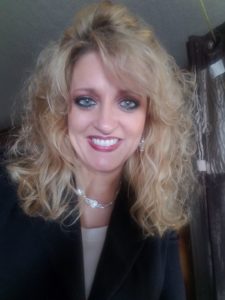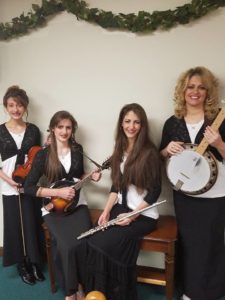 Until Next Time,  Farewell Friends!    -Jill Rodrigues for the Family
Please follow and like us: